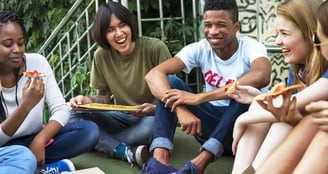 If your teen feeling overwhelmed? Are they struggling with relationships at home or with their peers? Are they dealing with grief or trauma?
Life and Strength offers weekly peer group counseling for teens, where we foster open and honest exchanges about the issues confronting our clients. We offer a session for younger teens, from 12- to 14-years old, and one for older teens, from 15- to 17-years old. These sessions are tailored to the needs of the group members, and can be accessed in person or online.
Our group sessions offer an outlet for teens to express fears, anxieties, doubts and to encourage one another. We also offer skills and tools to help teens learn about themselves, their own emotions and responses, and how to manage them.
Our teen counselors also offer guidance on communication and relationship building, to help teens create strong support systems that will serve them throughout their lives as they grow into adulthood.